2050 generated possibilities and spark between "art" and "technology", and what can we expect from the combination of "business" and "technology"? Check out the insights from the opinions leaders and business elites.

Innovative Entrepreneurship

The Future of Innovation
Kapil Kane | Intel China, Director of Innovation
Virginia Tan | Lean In China, Cofounder and President
Rhea See | She Loves Tech, Cofounder and COO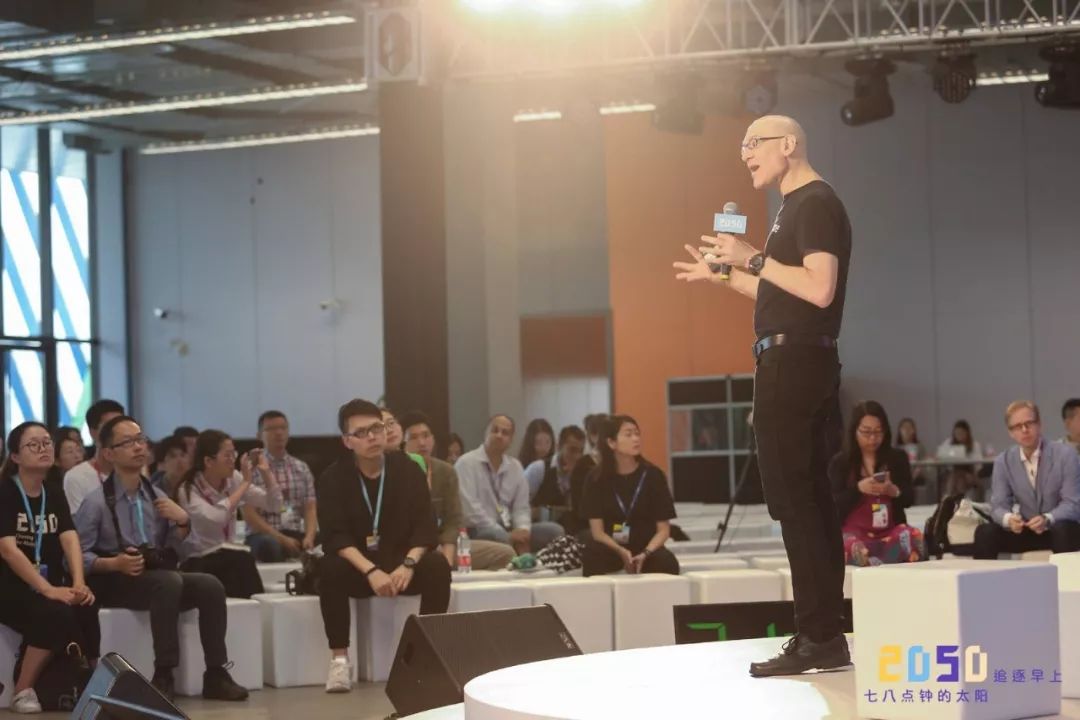 "AI can now predict a lot of things that we can't even imagine. However, these technologies also bring questions about humanity——can they really make life better?"
——Steve Hoffman | Founders Space, Founder & CEO; Author of "Making Elephants Fly"
"The development of AI is definitely inspiring, but at the same time, it brings some question, such as the disappearance of lots of work. We should think about how to coordinate the relationship between human and technology, otherwise there will be a huge social problem."
——Richard Brubaker | Collective Responsibility CEO
"The development of technology has given us more perspectives to see and think about questions, just like to observe cells through VR, and those have brought new experiences."
——Gavenraj Sodhi | Solbit Group, Founder and CEO
"In the world surrounded by technology, more people have been numb and less reflective of their own feelings——that's the problem that many of us are facing."
——Wendy Wu | Wonder Tech, Founder and CEO
"Despite the fact that the technology has been more and more developed, human's work has not diminished. In my opinion, in the future of AI, more significant work will be done by human, and this part is irreplaceable."
——Patrik Sandin | Thrive Together, CEO
"The ability of networking is important, the interpersonal relationship is a particularly important resource during the pioneering period."
——Wei Zhou | XNode, Founder and CEO
"We should learn to be more tolerant to interact with others and then connect different resources and superiorities."
——Callum Porter-Harris | Hult Prize Foundation, Global Director
"Congratulations to you when you have a good idea, because in this case, you are closer to success."
——Chris Zhang | China Accelerator, Project Manager
"When people feel energetic, joyful and relaxed, creativities will come out occasionally."
——Brian Tam | Let's Make Great! Founder
"I hope to connect the programmers with the business world and generate bigger value."
——Thibault Genaitay | Le Wagon, Head of China
"What China attracts me is that this is a new economic entity, many exciting things are happening there."
——Jasper Gill | XNode Startup, Project Director
The Power of Innovation
World Economic Forum Global Shapers Shanghai International Hub

"Innovation is evolutionary and not revolutionary, and actually everybody can innovate."
——Xiangwei Gong | DSM Hydrocolloids, President
"There're lots of intangible elements of cooperation, such as trust and empathy."
——Jemma Parsons | Head of Innovation & Strategy APAC, Adobe System
"Challenge is to identify every process, talk to millions of people, and get the right advice. "
——Biman Najika Liyanage | Blue Sky Labs, CTO
"I'm not an innovator but I facilitate and help people who do the innovations, and I appreciate to the innovators who blow my mind."
——Benjamin Su | Partner of Latham&Watkins
"Innovation is very dynamic and to get people to adopt to the change is not very easy, so being persistent is very important."
——Nancy Abraham Sumari | Executive Director of Neghesti Sumari Foundation, World Economic Forum Global Shaper
How Will the Integration of Science +Technology + Culture + Art Change Our Future Life
William Feng | Advisory board member, Vertech Capital
"The perfect cooperation of human and AI is the future. As an entrepreneur, three kinds of abilities are significant. First, interpreters of big data; Second, translators of user language; At last, outstanding product designers."
——Ke He | Expert in Fans Economy and culture big data
"The space can be interpreted under the influence of technology and culture, and architecture will also carry more scientific and cultural connotations."
——Jinliang Peng | META Architecture and Planning Founder and CEO
"Technology has gradually infiltrated into our lives, such as cloud and big data, has gradually optimized our lifestyle. We should think about how to participate in the technology development and how to interact with it."
——Tracy Xie | Social Media Department from Pudong Media Group Deputy General Manager, Shanghai
"The transformation of space, culture, as well as history and the interaction can produce lots of wonderful products."
——Zi Li | Cofounder of i-village & Phd, National University of Singapore
The Role of Art and Creativity in Social Entrepreneurship
Chantal Wong | Director of Culture & Image, Eaton HK, Global Shaper
"Trust——artists need to believe the process of producing art, but not a rush for a quick result; generosity——we need to rethink the relationship between society and build connections with them; connection——artists are lonely, we have to connect with other people; at last, embracing changes."
——Chantal Wong | Director of Culture & Image Director, Eaton HK, Global Shaper
"Discussing technology is actually thinking about how to use technology to help leadership."
——Ken Chow | Embrace Worldwide Managing Partner
"People are easy to follow the crowd, but everyone is different. You need to find your own group because of your passion, you're more likely to be a good leader."
——Natalie Chan | Founder of OWN Academy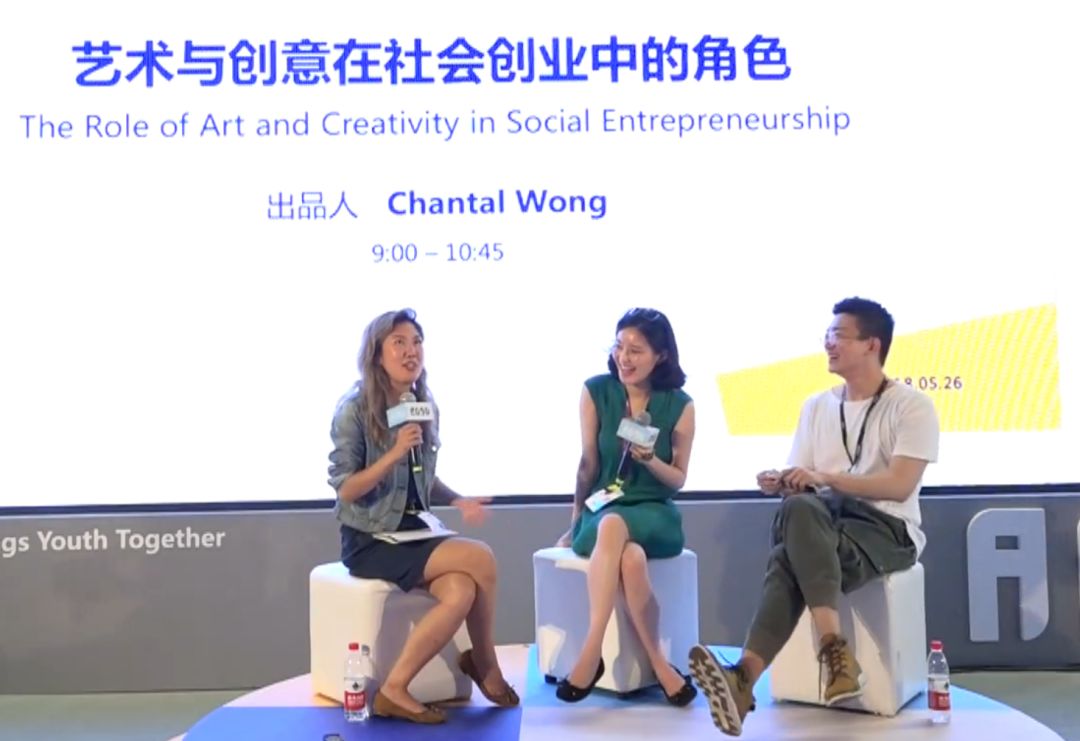 "Creativity has two dimensions of mission——inward and outward. Internally, creativity allow us to enrich ourselves and rethink the relationship with this world; externally, creativity help us affect more people and things surrounded."
——Daisy Guo | Tezign.com Cofounder & CMO, Global Shapers Community Shanghai II Hub
"Creativity has lots of resources, but we neglect lots of aspects. Creativity can mean the diversity, inclusivity, and dialectical thinking of the method and perspective of thinking about problems."
——Qi Li | The Art Newspaper China Deputy Editor
Tabletop Game for Innovators with 100+ Ideas
Susanna Ma | g0ttago.com Founder, Global Shaper
"The business innovation has three dimensions, first, product and service, in other words is to add types and features of product and service based on current users; the second, user, to expand on the basis of current users; third, the resource, to optimize the internal process and enhance brand superiority."
——Brian Tam | Founder of Let's Make Great!, creator of PROTO
Global Fintech Innovation
Lincoln Yin | RootAnt Founder and CEO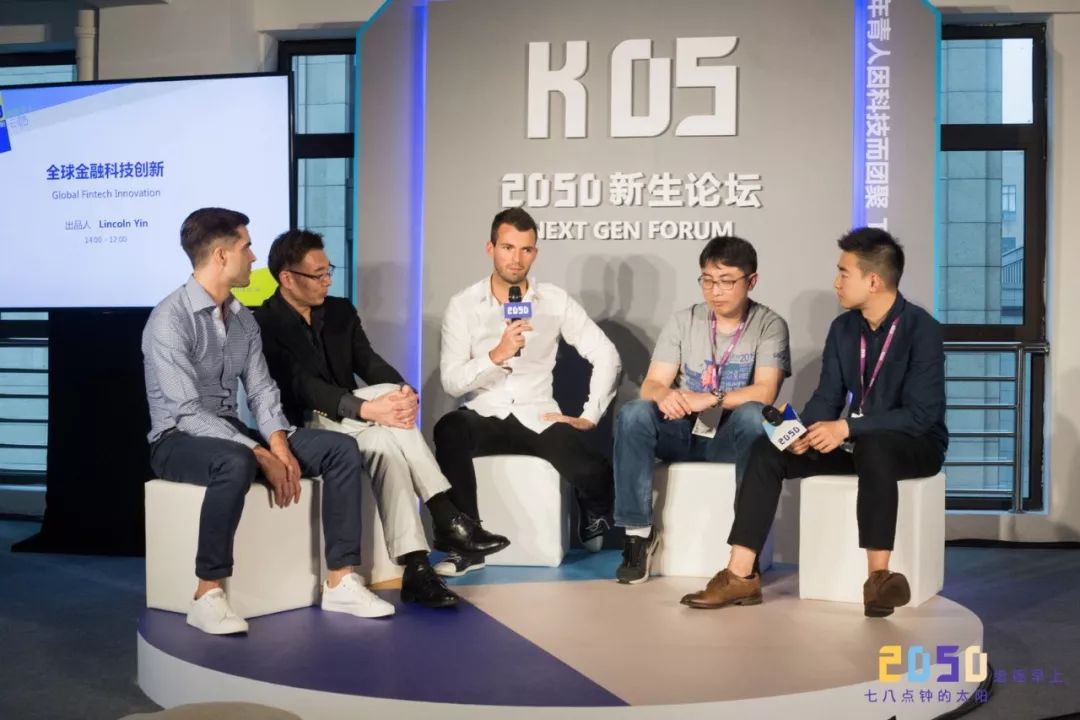 "Enterprises should embrace technology and changes. To build enterprise development strategy from the customer intimacy, operational efficiency, and innovation. People can innovate from those perspectives: new business models, new ecosystem, as well as higher speed."
——Steven Ma | Global Competency Lead of Temenos
"What has technology authentically changed? In fact, the development of technology has essentially brought a change in tools that ch ange the way people communicate and interact with the world."
——Francis Lee | Asia Pacific of ADS Securities, CEO
"We are living in a world of data, more data are used to describe person, which also require us to realize and utilize."
——Florian Matthaeus Spiegl | FinFabrik Founder and COO

AI and the Future

The Future of AI: Four Unique Perspectives
Jan Carbonell | Opentrends Strategic Consultant, Curator at Global Shapers Barcelona Hub
"Science can do wonderful and powerful things to life, and if the experiments are done by machines, what will it be?"

——Javier Garcia Martinez | Cofounder and Chief Scientist at Rive Technology, Professor, YGL& member of the Global Agenda Council in Nanotechnology at the World Economic Forum
"Generally, machine learning is basically just a bunch of math that you try to do some sort of extrapolation."
——Jack Po | Google AI Healthcare Product Manager
"Current AI advances in deep learning still have security and transparency issues."
——Jia Qing Yap | Nurture.AI Founder and CEO
"By finding the kinds of models that could learn the relationship between natural languages, we can get closer to identify the universal DNA of language."
——De Kai Wu | Pioneer in the computational study of English-Chinese language
Shaping the Future of Good
James Da Costa | Hult Prize, Global Regional Director
"I hope some of you will be able to change the education through the hypothesis that this workshop built by the year 2050."
——James da Costa | Global Regional Director, Hult Prize
"The fact is that when we are more influential, we will have more financial power and resources which enables us to invest more for bigger impact."
——Callum Porter-Harris | Global Director, Hult Prize Foundation
"Once you find an opportunity that can let yourself be the bridge of the network, and connect those in need, you have the change to produce a win-win situation."
——Mahdi Shariff | CSO/SVP, Sunteng
Innovation and Adherence in the Era of AI
Kemmy Tsai | Founder of Fengsheng Media, World Economic Forum Global Shaper
"Under AI, what is changing? And what is not?"
——Kemmy Tsai | Founder of Fengsheng Media, World Economic Forum Global Shaper
"In my understanding, utilizing AI to solve problems of traditional industries is to use a changing technology to solve an abiding problem, in other words is the process of informatization in traditional industries.

——Jiawei Gu | Ling. AI Founder
"What I saw was that some consumers have unrealistic expectations of AI, so I think there's a long way for the products to go to meet everyone's expectations."
——Yifan Li | Hesaitech Founder, World Economic Forum Global Shaper
"In my opinion, the relationship between people still needs offline sustenance, not just relying on AI and the internet."
——Xiaoguai Chen | Founder of XMonster, World Economic Forum Global Shaper

Blockchain

Building the Future of Blockchain
Sam Lee | Blockchain Global Founder and CEO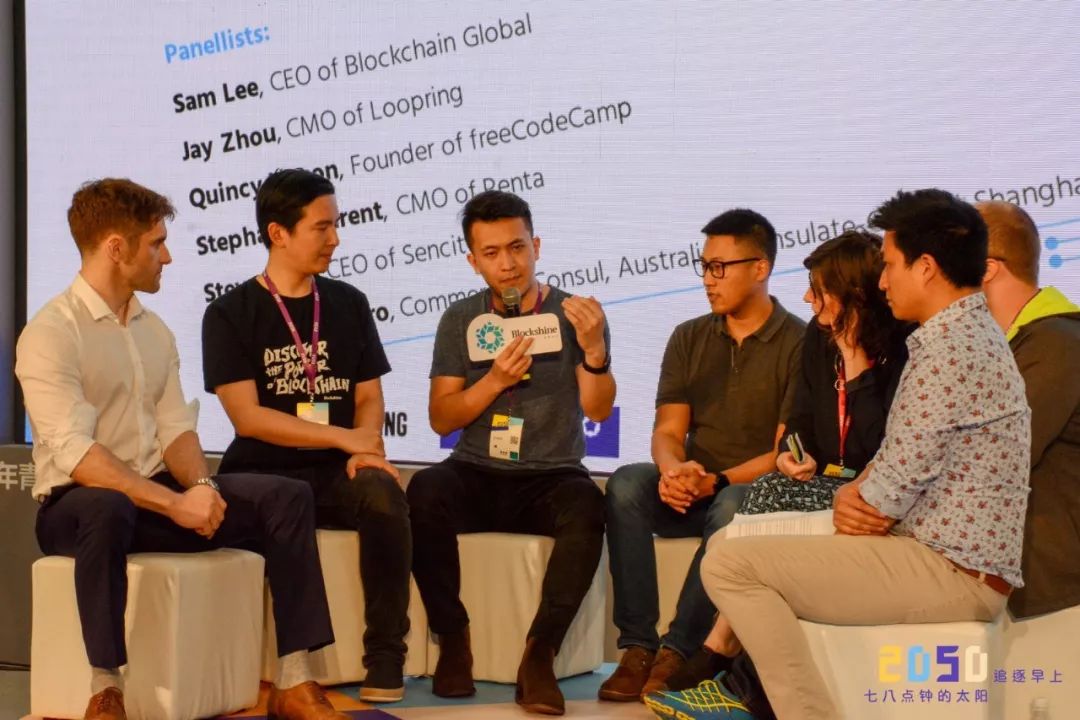 "Technology needs to be driven by people, and the best way to incubate people is through communities. A community with sustainable development momentum will nurture the development of blockchain technology and promote more complete blockchain ecological construction."
——Sam Lee | Blockchain Global CEO
"To cooperate with the government and build an energetic environment of community together is the most important thing, for example, Australia formulated standardized rules of blockchain, promoted the multi-field application of blockchain, and built a good environment for the development of blockchain community."
——Susan Corbisiero | Australian Consulate-General Shanghai Trade Commissioner
"Based on the establishment of blockchain's fans community will let community be more tolerant and active."
——Stephane Laurent | CMO of Penta
"With the help of government, fcc lessons has been applied to schools, jails, and so on, to let people have the opportunity to study independently."
——Quincy Larson | Founder of freeCodeCamp
"The community that established on blockchain incentive mechanism is more active, and the structure is more transparent, fair and sustainable."
——Steven Bai | CEO of Sencity
The Integration Development of Blockchain and Real Economy in 2018
Layla Dong | Global Shapers Community Foundation Board Member; Blockshine Technology Founder and CEO
"Blockchain can provide a fair opportunity for everyone, before every kind of ecological structure, the trust is necessary, and it begins with community."
——Layla Dong | World Economic Forum Global Shapers Community Foundation Board Member; Blockshine Technology Founder and CEO
"The development of ecosystem and implementation of application is closely related, quantum chains are also working on it."
——Wenbin Zhong | Qtum Engineer
"I hope to help people treat technology normally and find the value from questions."
——Yijia Zhang | Jazzyear Founder and CEO
"There's no difference between classical investment and blockchain investment, investors can't refuse new things."
——Xuepeng Xu | Independent Investor
"When rating a project, the ecology of the project is a significant dimension, and from that perspective, every industry can coordinate with blockchain and be valuable."

——Tao Hu | TokenInsight CEO

Technology and Female Leadership

Why Tech need ladies in 2050?

Jill Tang | Ladies Who Tech Cofounder
"Exhibition display + interactive technology > brand new experience"
—Zhuona li | Hangzhou Tannuo Electronics Co-founder
"In addition to humans in the real world, there're lots of robots in the digital world that coexists with us."
——Xiaomang Yuan | birddodo.com Founder & CEO
"The Bible says, 'He is like a tree planted by streams of water, which yields its fruit in season and whose leaf does not wither. Whatever he does prospers."
——Ting Zhang | Vice President at alphainsight.ai
How Technology Can Create Greater Gender Equality?
Stephany Zoo | Phoenix Risen Executive director
"The biggest obstacle to gender equality is prejudice, not only aims to female but also aims to other minorities."
——Philip Beck | Dubeta Pty Ltd Chairman
"The gender inequality is a complex cultural, economic, and social problem, which can't be solved from only one perspective, but at least we've walked out the first step"
——Michelle Li | Ruiwen She Power Co-Founder
"I think we've learned how to do the things we like and we feel confident about, find a brother or a sister, and increase our own LQ."
——Alana Strassfield | Impact and Analytics Associate, ELEVATE Limited
1 Billion of Chinese Women Are Changing the World
Pocket Sun | SoGal Ventures Founder and Managing Partner
"Women can have extreme female charm, and they can also have extreme business brains, create and play with social resources, and become participants in the discussion of global economy."
——Pocket Sun | SoGal Ventures Founder and Managing Partner

Circular Economy and Sustainable Development

Designing for A Circular Economy
Angela Chen | Senior Analyst at Impact Capitalyst; Global Shaper
"Circular economy is the utilization and management of resources, if we live our lives like what we do right now, then we need the resources of 2.1 earths to survive."
——Angela Chen | Senior Analyst at Impact Capitalyst; Global Shaper
"Circular economy is a multidisciplinary economy, in order to develop it, each of us needs to participant in the process."
——Carlo Delantar | Altum Co-Founder, Global Shaper
Chinese Development Velocity Meets Sustainability
Tingting Fang | HEYSHOP Co-Founder, Global Shaper
"I'm designing a 'healthy community', to let my child learn knowledge, awareness, and education that can benefit his life."
——Nitin Dani | Green Initiatives Founder
"I'm concerned about how Chinese capital can keep pace with the development in terms of social impact."
——Dr. Tat Lam | Shanzhai City CEO
"People are paying more attention to the balance in the life, with the increasing pressure, sustainable development is becoming more and more attractive."
——Tom Xiong | Move Shanghai Founder
"The food we eat has a close relationship with the sustainable development of future, I make the vegetarian food beautiful and delicious to awake everyone's awareness."
——Daphne Cheng | Superhuman Founder
Sustainable Development & EcoTourism
Darren O Connell | ReLabs Founder and CEO, Global Shaper
"In order to balance our life, we should focus on four aspects: exercise, nutrition, sleep, as well as stress management."
——Darren O Connell | ReLabs Founder and CEO, Global Shaper
"Citizens come to the countryside is helpful to the communication of countries and cities, and people can realize expectations of food between countries and cities."
—— Fred Young | Rainbow of Hope Founder
"For me, sustainable development is the development based on community."
——Chen Jin | Nature Education and Eco-tourism advisor of TNC Hangzhou Project
Let's meet at the 2050 for next year!
点击"阅读原文", 查看更多新生论坛视频回放~